Jazzuo
Patricia Dean on vocals and drums with Stu Shelton on keyboard. A unique offering in jazz entertainment.
Whats New:
Shelton Studios Upgrade
June 2011

Shelton Studios is constantly striving for the best recording gear and software available. This year several editions have been made in the way of ribbon mics, condensor mics and recording software.
Current Gigs:
Jazz About Town
July 2011

Sign up on my newsletter about current performance schedule and other special events!

New CD:
Lou Califano & Stu Shelton Duo Album
"One Day You'll Look Around"
Available on gigs!

A Unique Jazz Duo
Jazz pianist Stu Shelton has been a resident of Southwest Florida since 1989 and has entertained thousands of people in the area. He prides himself on the ability to play left-handed acoustic bass sound, while at the same time playing right-handed piano with an unparalleled musical fluency that absolutely speaks for itself. Stu Shelton is well known among those who enjoy genuine jazz and has a devoted following of fans who enjoy his performances at venues throughout the area.

Patricia Dean is a native Floridian who was born into a musical family and began performing professionally at age 14. She is one of the few nationally known female vocalist-drummers in Florida. She has traveled extensively throughout her career and currently makes her home in Southwest Florida where she regularly appears with Stu Shelton. Patricia's singing is stylistically reminiscent of Diana Krall, Nancy Wilson, and Shirley Horn, and fans are enthralled by her ability to sing while subtly playing jazz drums. Her incredible talents round out this dynamic duo.

JAZZUO is a unique jazz duo combining the keyboard/bass of STU SHELTON and drums/vocals of PATRICIA DEAN to give the sound of a live and spontaneous jazz quartet. Our repertoire includes songs of the Great American Songbook as well as today's contemporary standards. We pride ourselves on our courteous and professional attitude, and look forward to providing you with outstanding musical entertainment. The enclosed CD is an honest representation of our musical offerings. We hope you find us to be the perfect fit for your entertainment needs in the future and look forward to meeting with you.
Sound Clips
Recent Performance History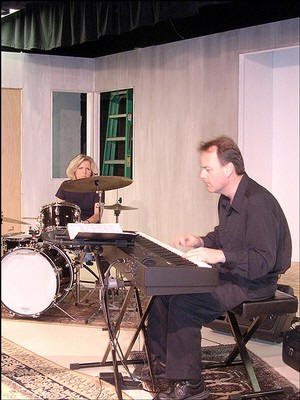 Ritz Carlton Beach Hotel, Naples, FL
La Playa Beach Resort, Naples, FL
Stoney's Steak House, Naples, FL
Ruth Chris, Estero, FL
Marco Players, Marco Island, FL
Bayshore Cultural Arts & Performing Center Music Festival, Jazz in the Park, Naples, FL
Punta Gorda Jazz Festival 2010 (open for Benoitt), Punta Gorda, FL
Ritz Carlton Golf Restort, Naples, FL
Fred's Fun, Food & Spirits, Naples, FL
Aldo's, Naples, FL
Shula's at Hilton. Naples, FL
Bay House, Naples, FL
Capri Restuarant, Naples, FL
Marriott, Marco Island, FL
Many Private & Corporate Parties in S.W. Florida
Philharmonic of Naples
email: Stu Shelton stuartshelton@comcast.net for booking information.
Solo
Duos & Trios
Larger Combos